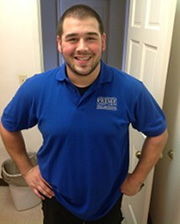 Based in West New York, WJ, Prime Uniform Supply is a uniform rental company, which takes pride in serving the entire Tri-State area. With a record of experience and service to our customers which includes uniform cleaning service, uniform rental, linen service and others, our company has earned a lot of good reputation for the last six decades or so.
Business History
It was in 1949 that we had started our long journey of providing linen and uniform rental and cleaning service. Our privately held company headquartered in New Jersey has been serving right through the Tri-State area providing flexible uniform rental and cleaning solutions. Our services cater to a wide variety of industries which include food processing and manufacturing, pharmaceutical and biotech, maintenance and janitorial.
With time, our company has grown into becoming one of the leading independent launderer of the Tri-State area. Our company may be smaller than some of the nationally advertised, publicly held companies but you will be overwhelmed with our world-class services.
Our size, flexible solutions and specific focus on customized uniform rental and cleaning programs allow us to provide our clients with hands-on care. Our clients are not just an account number, but are part of the Prime Uniform Supply family. The success we have achieved rings loud and clear in our decades of service.
Contact us to rent uniforms from a company that is first in service.