Floor & Uniform Laundering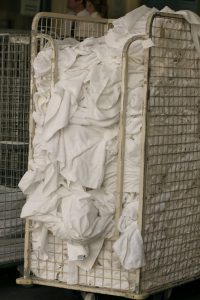 Prime Uniform Supply saw its beginnings in the middle of the 20th century, and one of the services upon which the company was founded was uniform cleaning – a service that we're still proud to offer today in order to serve your professional needs. If your Tri-State-Area-based business is in need of high-quality, hygienic laundering, get in touch with Prime Uniform Supply today.
Leading Independent Launderer
Things tend to get a bit dirty on the jobsite from time to time. Luckily, situations like these are taken care of quickly and easily with Prime Uniform Supply's uniform cleaning service. Once you've contacted us and requested the service, the rest of the process is simple, and there's virtually zero effort required on your part: we'll come to you and pick up your soiled uniforms, and then we'll bring them to our premises to launder each uniform hygienically. Once the washing process is wrapped up, we'll return your uniforms clean and ready to be put right back into action.
Floor Mat Rental And Cleaning Services
Uniforms aren't our only specialty – we also offer high-traction, slip-resistant floor mats for your commercial needs. Whether you require mats to defend your floors from heavy foot traffic or you'd like a custom mat to ramp up your company's visual branding, we've got what you need. Adding to the convenience – particularly if you need your mats to be replaced on a regular basis – is our floor mat rental service.
An excellent option to consider during the harsh winter season that is known all too well to most Tri-State residents, Prime Uniform Supply's floor mat rental service lets you utilize our ergonomic floor mats for a week at a time, and once that week is up, we'll come and pick your mats up for laundering, replacing them with a fresh batch. Then, once the mats are back on Prime Uniform Supply property, we'll ensure that they're thoroughly cleaned, so that whenever you're provided with a mat update, you get products that are wholly sanitary.
Choose Prime Uniform Supply For Your Workplace Needs
Upgrade your organization's image and keep your employees safe with fresh uniforms, floor mats and linens. Serving the Tri-State Area since 1949, Prime Uniform Supply has garnered the expertise to cater to a vast range of industries, from medical to food service and beyond, and with our varied collection of products and services, you're sure to find something that will help your business stand a step above the rest.