Uniforms in West New York, NJ
When it comes to work uniforms, Prime Uniform Supply is your one-stop shop. We manufacture, supply and service high-quality work uniforms, while ensuring the total satisfaction of our customers. Our family-owned and operated business includes a dedicated team of service directors who are here to make sure our clients have everything they need. We also offer convenient rental services so you can easily rent the uniforms, linens and floor mats your business needs.
Types of Uniforms Offered

At Prime Uniform Supply, we have uniforms for nearly every occupation. We offer work jackets, coveralls, food service smocks and industrial work clothing. We also have polo shirts and executive wear. Our work wear is focused on enhancing your company's image while also keeping your employees safe. In addition to clothing, we offer accessories including hats, gloves, and protective gear, making it easy and convenient to find everything you need to completely outfit your workforce. Not only do we carry our own premium work wear line, but we also carry lines from the top manufacturers in the industry. We are pleased to offer uniforms with valuable features such as premium construction, more stitches per inch and roomier cuts. Manufactured in ISO certified facilities, our work wear is a seamless blend of comfort, style, durability, and safety.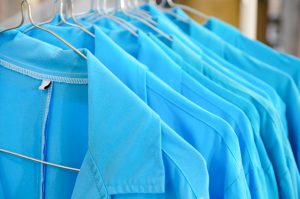 Rental Program: How It Works
We are pleased to offer a full-service uniform rental program for our customers, making it convenient and cost-effective to provide quality uniforms for your staff. Our rental program includes company custom logos on your uniforms as well as the ability to have them personalized with your employees' names. We also offer size adjustment and garment tracking as part of our rental program.
Cleaning Service
When it is time to get your uniforms cleaned, we will come pick them up and complete our hygienic laundering process. Then we will deliver your uniforms back to you freshly cleaned and ready for use.
Benefits of Renting
Renting uniforms allow your employees to save money on the cost of cleaning and maintaining their work apparel. In addition, there is no risk of employees bringing contaminants into their home from the workplace. Renting uniforms also make it easy for a company to ensure that all employees' work apparel is clean and in good repair, reflecting a positive image to the business' customer base. At Prime Uniform Supply we will adjust uniforms to be sure they properly fit each employee, taking the expense out of getting work apparel tailored.